Contact Us
The offices and mobile laboratory of ICES are located in the Truland Building (or as we call it-- the Darth Vader building), which is adjacent to the new building on George Mason University's Arlington, Virginia campus. Our main research laboratory is located in Student Union Building II, Room 2001, on the Fairfax campus.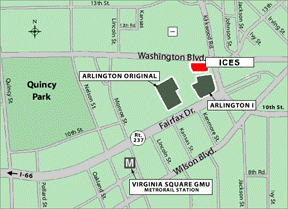 Our university mailing address is:

Interdisciplinary Center for Economic Science
4400 University Drive, MSN 1B2
Fairfax, VA 22030
Our physical address for Fed Ex deliveries is:
3330 Washington Blvd. Suite 400
Arlington, VA 22201.
Other contact info:
Main: 703-993-4850
Fax: 703-993-4851
Problems with this site?
E-mail: smarcia@gmu.edu